Since Brock Bolin first heard of snowbiking, he's been hooked.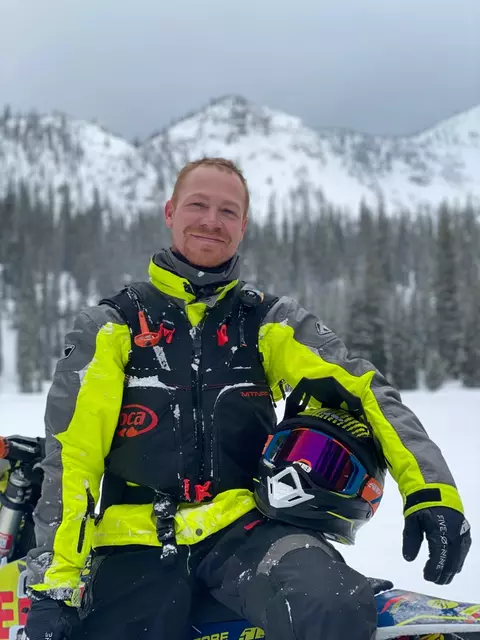 Brock Bolin of Kalispell, Montana first heard of snowbiking when the creator of the Timbersled Mountain Horse came over from Sandpoint, Idaho to show him and his coworkers at Penco Power Products a machine that resembles a dirt bike, but for snow. He was immediately hooked and since then, he's worked to expand the fleet of snowbikes that Penco Power Products sells each year. But along with fostering the growth of the sport, Bolin knows that he must also work to help provide the snowbiking community with knowledge and safety protocols for the dangers that exist in the backcountry—specifically when it comes to avalanches. We caught up with Bolin to hear more about what he's doing to spread the snowbike gospel and how he's trying to educate those involved in the nascent sport.

Backcountry Access: What does the current snowbiking community look like and how does that affect how you disseminate avalanche safety information?
Brock Bolin: The demographic breakdown of snowbiking is two-fold. There are snowmobilers who are converting to snowbiking and then there are dirt bikers who are getting into snowsports. So the snowmobilers typically understand the importance of carrying the proper gear. When they get into snowbiking, they usually already have most, if not all of the safety gear and they understand avalanche danger and risk mitigation because they've had some sort of training for avalanche terrain. They understand the need to take courses and practice with their beacon and do trailside beacon checks.
Conversely, the dirt bikers who are getting into snow sports for the first time have no idea about snow safety. They don't know what gear they need to carry and they don't have any formal avalanche education; those are the people we really try to push to take a class, whether it be a one-hour awareness clinic, an intro class, or ultimately a Level 1 course. We try to show them the avalanche center's website and how to find the links to the education that's available and try to push them into getting training. And obviously part of that training is the dealership saying, "Well you know you really need a beacon, shovel, probe, and you should check out carrying an avalanche airbag and take a class," to really emphasize with them that it's all a part of the purchase of a bike.
BCA: What does beginner snow safety look like for a snowbiker?
BB: Snowbikes allow you to access avalanche terrain very easily and it's something that we take seriously—we want to get people educated. When people buy a kit, it's often their first experience on snow. They're usually very experienced dirt bikers but they don't have a lot of on-snow knowledge, so we set them up with a beacon, shovel, probe, and avalanche airbag. And then we also point them in the direction of avalanche education courses.
I work for the local avalanche center as a motorized liaison and an avalanche education coordinator and I help schedule and host motorized specific avalanche education courses. I also work with Mike Duffy who is one of BCA's ambassadors and also a snow safety educator. Mike was up here this year and we did a full Level 1 course. I'm also the safety director for the local Flathead Snowmobile Association, and recently, in partnership with the State of Montana, we funded members of the snowmobile association to take a Level 1 course. That's a new program that we started this year and it went very well; we were able to put 12 people through the Level 1 course fully paid for.
One of the difficulties we face with safety, however, is the lack of motorized-specific training. Alpine skiers and climbers typically travel extremely slowly through the backcountry. So one of the struggles that we've run into is that the motorized community has been turned off by traditional avalanche education because it's geared toward downhill and backcountry/slackcountry skiing. The problem with that is that we can traverse terrain so much faster than a skier can that we can go in and out of an unsafe zone extremely quickly. So trying to get the curriculum up to speed with the capabilities of the machine and the rider is paramount.
With the help of Mike Duffy, we're seeing that avy education teachers are starting to understand the need for a motorized curriculum. With that shift, we're more effective in teaching these motorized users, but it has been a struggle. I moved to the mountains from the Midwest and when I moved here, I was looking for motorized specific training and there wasn't any. There were only skier-oriented classes. So I realized that the people who I was riding with—people who'd been in the mountains their whole lives—didn't have any training. And I thought it was absolutely ludicrous that these people I was riding with in these remote backcountry areas didn't have any formal avalanche training. So that's how I got involved.
BCA: What are the key avalanche safety tools you use in the backcountry?
BB: Snowbiking is unique in that machines are capable of riding through extremely tight timber, so the BCA Float MountainPro Vest has proven to be a huge seller for us because these riders are looking for that core protection; they're dirt bikers, so they're used to wearing chest protectors to begin with. The MtnPro Vest fits nicely into that category because it offers riders that core protection, and also gives them the safety of the airbag and the quick access of their transceiver or their satellite messenger right on the front pocket.
The BC Link radio works extremely well for communication as well. In snowbiking, you tend to ride through terrain a lot faster than with snowmobiling—not necessarily ground speed, but you cover a lot of ground really quick because you're not limited by your snowmobile routes, you can cross country through the woods. Therefore the communication with the BC Link is huge as well.
For a group of snowbikers, it's a lot easier to get split up. If you get lost from the group and you don't have a radio one time, I guarantee that the next time you go out you're going to have a radio. It's usually a fairly easy sell to get people into communication devices because it's pretty much mandatory equipment. Very rarely do we show up at the trailhead and somebody doesn't have a radio, and 90% of them are using BC Links because of the ease of having the mic and the speaker on the shoulder strap.
BCA: What sets snowbikers apart from skiers and snowmobilers when it comes to backcountry safety?
BB: On a snowbike, you can basically go downhill anything that a skier can, but you can turn around and go back up. So you have the agility of downhill skiing with the ability to turn around and motor yourself to the top again. So the first thing I tell people is, "Forget everything you know about snowmobiling." That's because you're not on a snowmobile anymore. You're now riding a snowbike and sometimes it's difficult to get people to pick a line that's a snowbike line instead of trying to ride it like a snowmobile with a snowmobile line.
One of the difficulties with snowbiking and managing avalanche terrain that I mentioned before is that we travel through avalanche terrain much faster so we can expose ourselves very quickly and we can get out of danger very quickly. That's why having a rider's meeting at the beginning of the ride and analyzing what the skill set of the group is in addition to choosing our "go, no go" terrain is huge. If something goes on the "no-go" list for the day, based on the avalanche forecast and what we're seeing in the field, it stays on the no-go list for the whole day. So making sure the group understands where it is that we can go, where it is we can't go and why is huge.
It's crucial to look at the skill set of a group you're with, find out if they understand the danger for the day, and then choose the riding zone based on the group skill set. Being able to look at the terrain and understand that there's danger ahead and relaying that to the group, "Hey I saw this," or, "Hey, I don't think we should go there." People need to be willing to speak up and have the proper tools so that they can have a fun day in the backcountry.