If you spend a lot of time in avalanche terrain, hopefully, you've taken an avalanche course. But do you also have first aid training? Learn how you can become abetter backcountry partner by taking a wilderness first aid course.
Whether one of your partners is involved in a slide or twists their knee while riding, having knowledge of wilderness first aid is essential to properly treat an injury when in the backcountry. If you are looking for ways to become a better backcountry partner, taking a wilderness first aid course is something worth looking into. As backcountry travelers, we spend a lot of time practicing our companion rescue skills. But are you confident in your ability to evacuate a victim once you've found them with your transceiver, probed, and dug them out?
Prepare for the Worst
With limited resources, and outside help hours or even days away, the backcountry offers unique first aid challenges. Being able to assess the severity of an injury, treat an injury with limited resources, and assess the safest way to evacuate a patient are skills that will be drilled during any wilderness first aid course.
Imagine this
Your partner is caught in an avalanche. You pull them out in just a few minutes. Once you uncover an airway and your partner starts to get oriented, they start to complain of excruciating abdominal pain and a broken leg. Do you think you could safely evacuate your partner? What would you do to help relieve the pain? Are you able to competently splint a leg or other broken limb? If you're not confident in how you would respond in this situation, it might be time to invest in some first aid training.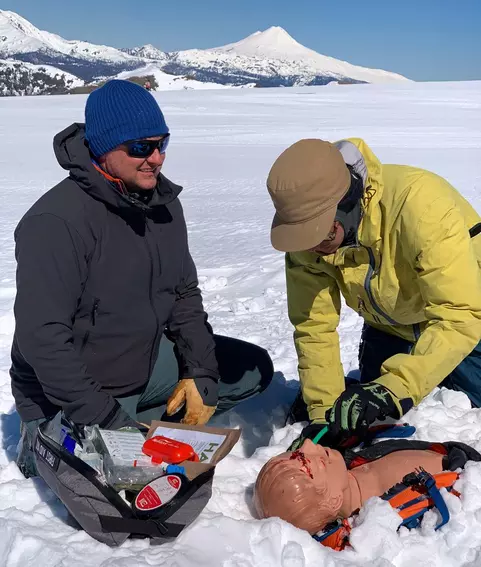 Tyler Nielsen of Remote Medical International teaches a Freeride Chile athlete how to insert a nasopharyngeal airway. Location: Corralco, Chile.
Course Options:
This list is not comprehensive. But if you travel in the backcountry for fun and, not for work, this is a good place to start.
Course Length: 16-20 Hours
Course description provided by NOLS: Prepare for the unexpected with this engaging, hands-on introduction to wilderness medicine, taught over two or two and a half days. If you like to take short trips relatively close to medical resources, work at wilderness camps, enjoy weekend family outdoor activities, or recreate outdoors, this course is for you.
This course is great for people of all experience levels and is best suited for those who recreate outdoors where EMS response can be expected in a timely manner (fewer than eight hours). You'll learn the Patient Assessment System, how to provide effective first aid treatments for injuries and illnesses common in the outdoors, and how to make appropriate evacuation decisions.
Wilderness Advanced First Aid (WAFA)
Course Length: 40 Hours
Course description provided by NOLS: If you travel or work in remote areas and need more extensive training than a Wilderness First Aid course, our Wilderness Advanced First Aid course is a perfect choice! Learn to stabilize, treat, and make evacuation decisions for patients in backcountry environments, with an emphasis on long-term patient care management and specific injury evaluation. In addition to plenty of time practicing skills and engaging in scenarios, you'll work in small teams and practice leadership.
Wilderness First Responder (WFR)
Course Length: 80 Hours
Course description provided by NOLS: If you work or recreate in the outdoors or in other austere environments where access to medical care is delayed or communication is unreliable, our 9-10 day Wilderness First Responder course is for you! It is the industry standard for professional guides, trip leaders, search and rescue team members, outdoor recreationists, and international travelers. Upon completion, you will be able to conduct a thorough physical exam, obtain a patient history, assess vital signs, provide emergency care in the wilderness, and make crucial evacuation decisions.
Want to get a jump start on first aid training? Watch BCA's videos on Patient Assessment and Backcountry Evacuation.