BCA sled ambassador Mike Duffy gives eight great recommendations for properly setting up a snowmobile for backcountry rescue.
By BCA Sled Ambassador Mike Duffy, published for The Avalanche Review: Using Snowmobiles for Avalanche Rescue.
The Snowmobile: The type of snowmobile used (utility vs. deep powder) is a common debate. Here's my thinking: Getting stuck will delay the rescue substantially. The two-up utility snowmobiles that most ski patrols and many mountain rescue teams use are not the best tools for getting into difficult terrain. They're too heavy, can't get too many areas, and take too long to get unstuck. For backcountry rescues, light and fast is the way to go. I have been using Ski-Doo Summits for years. They are extremely reliable, low maintenance, have a LINQ system to easily attach extra fuel, ski racks, two-up seat, and tunnel bag. At the end of the season with the Etec engine, add fuel stabilizer, start the sled, hit a few buttons, and lubricates the engine for summer storage. Doesn't get any easier. Track length. 163 or greater for deep snow. The longer the better.
Snowmobile Engine Size: Horsepower matters. 800 cc or bigger two-stroke.
Snowmobile Riding Gear: We use motocross helmets with goggles. Cold temperatures require face protection, balaclava. Also, have spare goggles and a clear lens for night riding. Motocross helmet prevents fogging and allows you to breathe better, especially
when digging. Bring spare gloves and extra layers. Most snowmobiling rescuers don't use an airbag pack bigger than 30 liters. I use snowmobile-specific mtnpro airbag packs that have less swing weight, lower profile, don't hit the helmet, and are designed for
aggressive riding.
Snowmobile Gear Storage: Less weight on the rider makes for less fatigue and more maneuverability. I carry first aid, survival, and avalanche gear on me. The nonessentials are in my tunnel bag. In snowmobiling when using airbag packs, we carry two shovels. One on the rider, one on the snowmobile. If you get stuck, you pull the shovel off the tunnel bag instead of taking off your pack to access the shovel. This gives you the safety of the airbag at all times. If the sled gets buried, you still have a shovel.
Snowmobile Ski Racks: On rescues, we carry a second mode of transportation. Sometimes the snowmobile will only get you so far and we switch to skis. I prefer racks that are in line with the tunnel of the snowmobile, easily removed and light. If you roll the snowmobile, you don't break the skis. Not a fan of ski racks with tall metal uprights that are above the tunnel. If you come off the snowmobile, injury can result from hitting the uprights. I use the Ski-Doo LINQ ski/snowboard rack.
Snowmobile 12 Volt adaptor: Great for running auxiliary lights and running/charging devices (GPS, cell phone). Stock snowmobile headlights can easily get covered by snow in deep powder. Many riders use helmet-mounted lights to see when the going gets deep. Frankensled Backcountry 8.4 light and Lead Dog Helmet light are good choices. I use a handlebar-mounted Ram Mount for my Garmin Montana GPS.
Two-Way Radio Communications: I prefer not to have radios on my chest, they tend to break ribs when you bounce off the handlebars. I wear a protective vest when riding (BCA MtnPro Midlayer vest) or an airbag protective vest. Body of my two-way radio is in my pack, with my BC Link radio remote mic clipped to shoulder strap of pack.
Snowmobile Hand Signals: If you pass snowmobilers going the opposite direction on a trail, they may be using hand signals to let you know how many are following. The number of fingers held up indicates how many riders are behind that rider. The last person in the group holds up a closed fist to indicate they are the last one. It's a system that is universal in the U.S. and works well.
---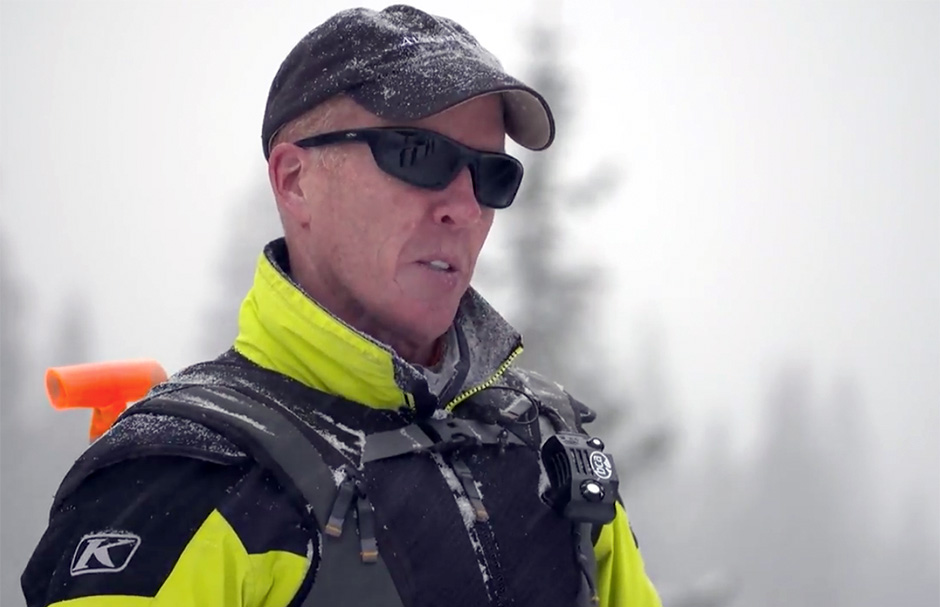 BCA sled ambassador Mike Duffy is a skier and snowmobiler who resides in Eagle, CO. He is a certified American Avalanche Association instructor who instructs avalanche classes and riding schools through Avalanche1.com, Colorado Mountain College, Silverton Avalanche School, and the American Avalanche Institute. He is a technical representative for BCA snow safety equipment and is the primary U.S. instructor for Bombardier Recreation Products (BRP) Ski-Doo Avalanche Education Tour.
---