Avalanche safety educator and BCA sled ambassador Mike Duffy of Avalanche1 compiles the U.S. Motorized Avalanche Fatalities Report to educate the snowmobiling community at the end of each season. This 21-22 winter report is significant because total U.S. avalanche fatalities (all users) were down 54% as compared to last season. Of the total, motorized avalanche fatalities dropped 33%, from nine to six from the 20-21 to 21-22 season. Common accident problems and patterns contributed to the deaths, including lack of on-snow snowmobile safety training, riders triggering slides on persistent weak layers of snow, and lengthy rescue times due to inadequate knowledge and avalanche safety gear.
Duffy presented the U.S. Motorized Avalanche Fatalities Report - Winter 21-22 at the 54th Annual International Snowmobile Congress in Dubuque, IA, on Saturday, June 11, 2022. The conference brought together International Snowmobile Council (ISC) members, manufacturers, suppliers, and representatives from snowmobile organizations worldwide for education, collaboration, and networking.
The good news for the U.S. is that we experienced 54% fewer U.S. avalanche fatalities (all user groups) between winter 20-21 and winter 21-22. But compared to skiers and snowboarders, motorized users were a more significant percentage of overall fatalities in winter 21-22 compared to the prior season.
Total U.S. avalanche fatalities 21-22 = 17. Motorized users = 6. (35% of total).
Total U.S. avalanche fatalities 20-21 = 37. Motorized users = 9. (24% of total).
The motorized community has made considerable strides in the last 12 years by cutting average annual avalanche fatalities in half within the U.S. However, we are seeing some of the same patterns in snowmobile avalanche fatalities over the last seven years.
The common accident problems and patterns that we have seen with motorized avalanche fatalities are:
Victims not having on-snow avalanche training
No on-snow avalanche training within the riding group and the victim.
Insufficient avalanche forecast availability in popular areas
Riders triggering avalanches on slopes with Persistent Weak Layers (PWLs)
Victims all-male
Lengthy rescue due to not having proper gear or not being proficient with the gear.
There continues to be a problem getting riders to take on-snow motorized avalanche safety classes. More riders than ever are taking level I classes, but it's a small percentage of the overall riding population. Duffy feels that higher avalanche training can further reduce these fatalities. Investing in avalanche airbags before investing in on-snow level I classes is common among motorized users.
Some of the most popular snowmobile destinations in the U.S. do not have an avalanche forecast. These areas include Island Park, ID, Big Horn Mountains, WY, and the Snowy Range, WY. Backcountry Access and the Avalanche Alliance are contributing money to local avalanche centers and other groups to initiate forecasting in these areas. Local groups will be crowd-sourcing avalanche information sites in the Snowy Range and Big Horns this winter, along with a forecast for Island Park, ID.
Consider the winter 21-22 avalanche fatalities statistics:
33% of the motorized fatalities in winter 21-22 occurred in areas without a forecast.
Avalanche danger rating at the time of accidents: Low - 1, Moderate - 2, Considerable - 1. No forecast for the area - 2. When taking into consideration the avalanche danger rating in adjacent areas for the accidents without an avalanche forecast: Low - 1, Moderate - 3, Considerable -2
The typical motorized victim has been the long-term western local. 83% of victims were riders from the Midwest. Twenty years ago, Midwest riders were 50% of the fatalities. The fact that Midwest riders were the most significant percentage of deaths among motorized users in the U.S. in 21-22 has not happened for many years. While we are not sure why this happened this season, we do know that many Midwest riders did not travel to ride in winter 20-21 due to Covid.
All victims were male, with an average age of 37. Actual ages were 17, 30, 34, 40, 43, and 58.
Duffy prepares and presents this information so that the snowmobile community can learn from these tragic accidents and adapt avalanche training to address rider behaviors in the hope of reducing accidents. Future avalanche incidents can be avoided by ensuring that everyone you ride with has taken a motorized avalanche safety course and ride with the necessary avalanche safety gear.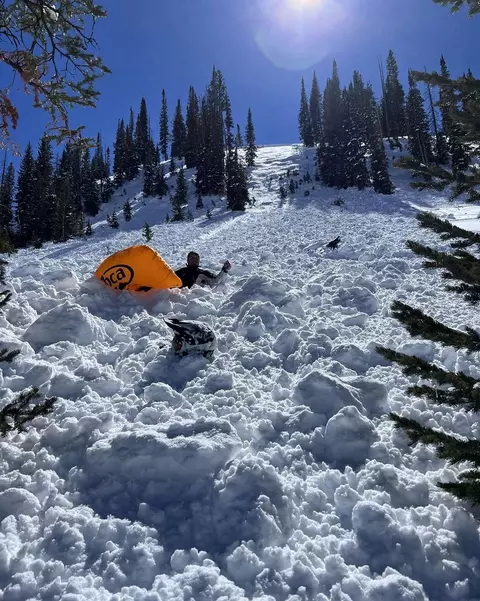 This snowmobiler deployed his BCA Float avalanche airbag and was fortunate to survive an avalanche in central Utah last March 2022. Photo Credit: @austineor.
Key points when teaching to prevent accidents among motorized users:
Recognize avalanche terrain/consequences. Most riders are not using inclinometers.
Understanding Persistent Weak Layers (PWLs) and the correct mindset for managing is avoidance. Teach patience and discipline.
Read into the forecast. Too many are just reading the avalanche danger rating and not considering the dangers of PWLs. Get the big picture by reading observations, summaries, and avalanche problems, then making observations on snow. Teach riders how to submit observations. The forecast is a starting point, and riders must constantly evaluate conditions.
Carry and get the training to know how to use it—(no $20 shovels, which all too commonly fail.)
Keep a visual on riders who are in or under avalanche terrain—Buddy system.
Avoid multiple riders on a slope, don't help a stuck rider in avalanche terrain. Multiple riders on an avalanche slope can result in a multiple burial situation, which statistically is more likely to end up with a fatality. If someone is stuck, you may want to coach them by radio and direct them on how to get them unstuck. Keep an eye on them from a safe location. Avoid riding out to help, as this can increase the stress on the snowpack and the odds of multiple burials.
Ensure Level I or higher training is essential for riding in the mountains.
Pick your riding partners carefully. All hope of live rescue depends on those with you at the time of the accident.
We should have avalanche forecasts in every popular motorized area as an industry. We encourage local avalanche centers to be thinking beyond popular backcountry ski spots to include all popular motorized areas.
While the information in this report is a reminder of proper backcountry sled protocol, Backcountry Access stresses that reports are not a substitute for avalanche education. To get educated about backcountry travel, find a local avalanche education program in your area and enroll for this coming winter.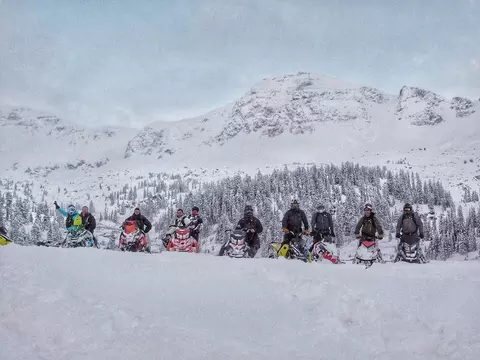 Mike Duffy is a BCA sled ambassador and nationwide expert in avalanche education for motorized users. He has been the lead educator for the BRP Ski-Doo avalanche awareness series offered at over 40 locations in 12 states. Mike is the owner Avalanche1 and offers professional avalanche education for mountain riders.