Snowmobiles have been used for decades to access avalanche accident sites, with transceiver searches traditionally conducted on foot. BCA and Avalanche1 have newly developed techniques to use snowmobiles in the signal and course search phases to cut avalanche rescue times.
By BCA Sled Ambassador Mike Duffy and BCA co-founder Bruce Edgerly, published for The Avalanche Review: Using Snowmobiles for Avalanche Rescue.
Snowmobiles have been used for decades to access avalanche accident sites, with transceiver searches traditionally conducted on foot. BCA and Avalanche1 have newly developed techniques to use snowmobiles in the signal and course search phases to cut avalanche rescue times.
In the recent article published in The Avalanche Review, Avalanche1 snowmobile educator Mike Duffy and Backcountry Access co-founder Bruce Edgerly present three ways sleds can be used to cut precious minutes in an avalanche rescue. These snowmobile avalanche rescue techniques have been used in numerous environments: avalanche incidents organized rescues, search and rescue (SAR) training, and in practice scenarios with BCA employees.
THREE WAYS TO SPEED UP AVALANCHE RESCUES USING SNOWMOBILES
1. Access the avalanche debris for immediate visual/signal search
A sled can cover ground very fast through most avalanche debris and makes uphill travel much faster. You can get right to the last-seen-point and then continue downhill on foot or skis (assuming the snowmobile is equipped with a ski rack). Despite the rough surface conditions, snowmobilers can ride the sled up the avalanche debris, starting from the bottom, and do a quick visual and transceiver search in approximately ten minutes. Once at the rescue site, avalanche rescue searchers can then switch to skis (with skins) and cover the same area using coordinated avalanche probing and search techniques.
BCA has recently produced the Avalanche Transceiver Searching Using Snowmobiles instructional video on using snowmobiles for avalanche rescue.
2. Move avalanche searchers to locations quickly
Rescue organizers can use snowmobiles to get multiple searchers to the most likely burial areas right away. Nothing is worse than taking 15 minutes to get to the most likely avalanche burial area, then finding a visual clue but too late for a live recovery. A snowmobile can get you and several others there in a matter of seconds. The bigger the avalanche, the more effective sleds can be for this purpose.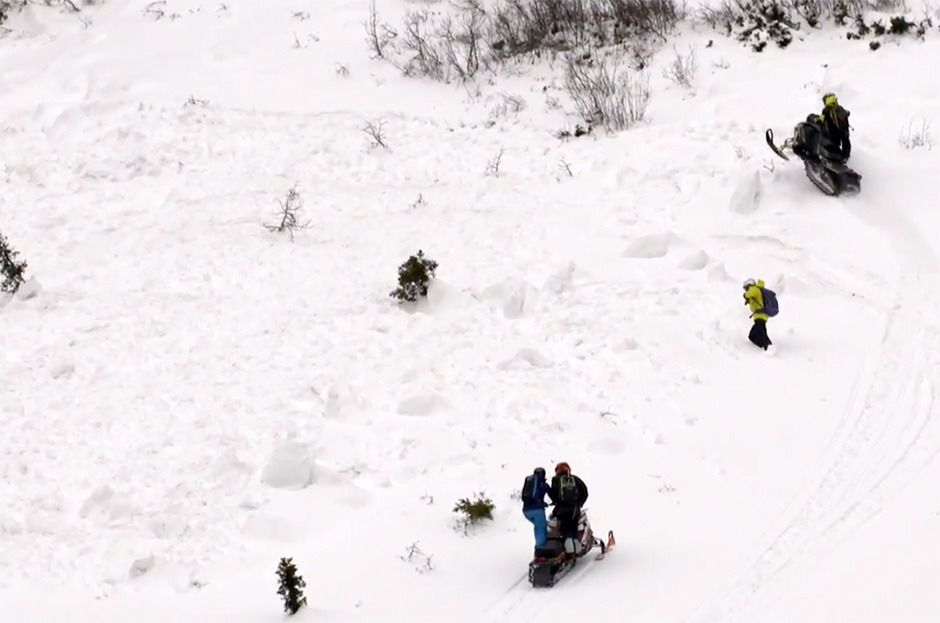 3. Search with avalanche transceivers from snowmobiles
Using snowmobiles to do avalanche transceiver searches works so well that can easily cut avalanche search times in half. Let's say you're the first on scene and have a large area to cover. Use the sled to cover the ground faster for the visual and/or transceiver search. Here are some techniques we have developed, practiced, and found to reduce search times considerably:
Keep the ignition switch tether unhooked, so you can keep the engine running when you get off the sled. Use your best judgment here on safety.
Keep your avalanche transceiver easy to access. Both the BCA Float MtnPro airbag and MtnPro vest have easily accessed, yet well-protected transceiver pockets on the outside.
Drive quickly to the avalanche debris and get up on it with your snowmobile. Stop and set the parking brake.
Keep the snowmobile running (it can be awkward to pull start when tilted). Step at least three feet away from your sled, to avoid electrical interference from snowmobile electronics. BCA testing has found that searching within three feet of most sleds (and six feet of the Polaris Axys) will often reduce receive range and/or cause false triggers in the distance/direction display. The snowmobile can be turned off to stop the interference, but many need to power down for 20-30 seconds for the interference to subside. Usually, it's faster to leave it running and get off the sled to resume searching.
Rotate your transceiver on all three axes to pick up a signal as early as possible. Look for visual clues.
If you capture a distance reading and directional arrow on your transceiver, walk a few steps to see if the numbers decrease, to confirm direction.
Get a visual on the direction/distance the transceiver is pointing, then use the snowmobile to get to that location.
No signal from your transceiver? Continue your search pattern, stopping within the transceiver range. Ride into the middle of the debris or continue around the perimeter, depending on the size of the avalanche and range of your transceiver. You can also use a signal search pattern (see transceiver owners manual). It all depends on the size of the avalanche. Stop your sled within the range of your transceiver and repeat steps 4, 5, and 6. You should be looking for visuals the entire time.
Once you get closer on the coarse search, stop the snowmobile, pull your shovel off your tunnel bag and proceed on foot with the coarse and fine search. If using an airbag, we recommend carrying an extra shovel on your sled preferably secured to a tunnel bag so if your sled gets stuck and you need your shovel to dig it out, then you don't have to take off your airbag pack.
Probe to pinpoint and start digging using strategic shoveling techniques.
Advanced Snowmobile Riding Skills in Avalanche Debris
Advanced riding skills are needed for most of these avalanche rescue techniques when riding on avalanche debris. A rider accustomed to sledding on groomed terrain will have a difficult time. If the riding skills aren't there, it will be faster to travel on foot or skis. The good news is that there are backcountry snowmobile riding schools. These schools will teach you advanced skills in one or two days. It will change your perspective on what a snowmobile can do and will increase your skills enough so your sled can be a valuable and fast tool for avalanche rescue. BCA has put its entire sales and marketing staff through an advanced riding clinic with hillclimbing champ Bret Rasmussen. For more info, see www.riderasmussenstyle.com.
---
BCA sled ambassador Mike Duffy is a skier and snowmobiler who resides in Eagle, CO. He is a certified American Avalanche Association instructor who instructs avalanche classes and riding schools throughAvalanche1.com, Colorado Mountain College, Silverton Avalanche School, and the American Avalanche Institute. He is a technical representative for BCA snow safety equipment and is the primary U.S. instructor for Bombardier Recreation Products (BRP) Ski-Doo Avalanche Education Tour.
---
For more information, read: Which Snowmobile to Use for Backcountry Rescue and How to Set it Up.