While these springtime avalanche tips cover Alaska, they are relevant and can be applied to any backcountry mountain region in the world, whether in the Cascades, Sierras, Rocky Mountains or the Alps.
Wet slab avalanche on Cornbiscuit in the Chugach, believed to have released last April 11, 2018. Consider these springtime avalanche tips when heading out. Photo: Patrick Machacek.
Although the forecast season has finished for most avalanche information centers, this does not mean that the avalanche season has ended. Please review these SPRINGTIME AVALANCHE TIPS from our friends at the Chugach National Forest Avalanche Information Center (CNFAIC). While these springtime avalanche tips are for Alaska, they are relevant to and can be applied to any backcountry mountain region in the world, whether in the Cascades, Sierras, Rocky Mountains or the Alps.
---
SPRINGTIME AVALANCHE TIPS FROM FRIENDS OF THE CNFAIC
Timing is everything! The spring transition can have an unexpected effect on snowpack characteristics. Stable snow can become weak and hazardous in a matter of hours. What to look for? Ask yourself these questions: Am I dealing with winter snow (cold and dry) or spring/summer snow (wet, warm, and/or crusty and refrozen)? Or is it some combination? What weather factors have affected the snowpack today and recently?
Remember the Red Flags that indicate instability!
Are there recent avalanches? What kind?
Cracking in the snow? Collapsing?
New snow? Rain? What elevation?
Wind loading? How strong for how long?
Rapid warming? Did it freeze last night? How many nights with no freeze? How deep are you sinking in?
While many people may have written off winter and have transitioned to springtime activities, there is still plenty of snow in the mountains. On any given day conditions can range from warm and sunny t-shirt weather to pouring rain, to cold and snowy mid-winter conditions. Being able to recognize and respond to specific avalanche concerns is key in making effective decisions in avalanche terrain.
Ski mountaineering up steep terrain and hiking on summer trails during the springtime warm-up can be very dangerous. Extra caution is advised for trails that cross under avalanche paths. Avoid being under large snow-covered slopes this spring as avalanche hazard does remain. The most common times for natural springtime avalanches are during sunny afternoons/evenings or periods of warm rainy weather. Know that an avalanche occurring above you could send debris to snow-free zones and valley floors.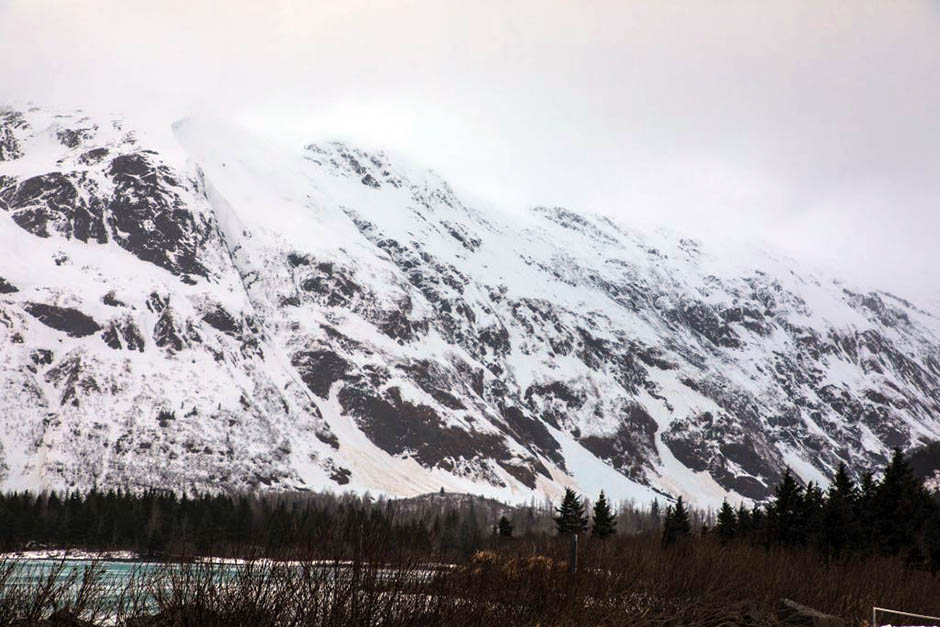 Recent avalanche debris at the base of the Byron Glacier valley on April 24th. Some people on Saturday, April 21, 2018, had a close call when an avalanche released naturally from above.
Loose Snow Avalanches: Both dry and wet loose avalanches are common springtime avalanche concerns. Pay close attention in steep terrain, especially when the sun first hits freshly fallen snow. Remember loose avalanches can be particularly hazardous if they push you into a terrain trap. Wet loose avalanches can trigger wet slabs on the slopes below.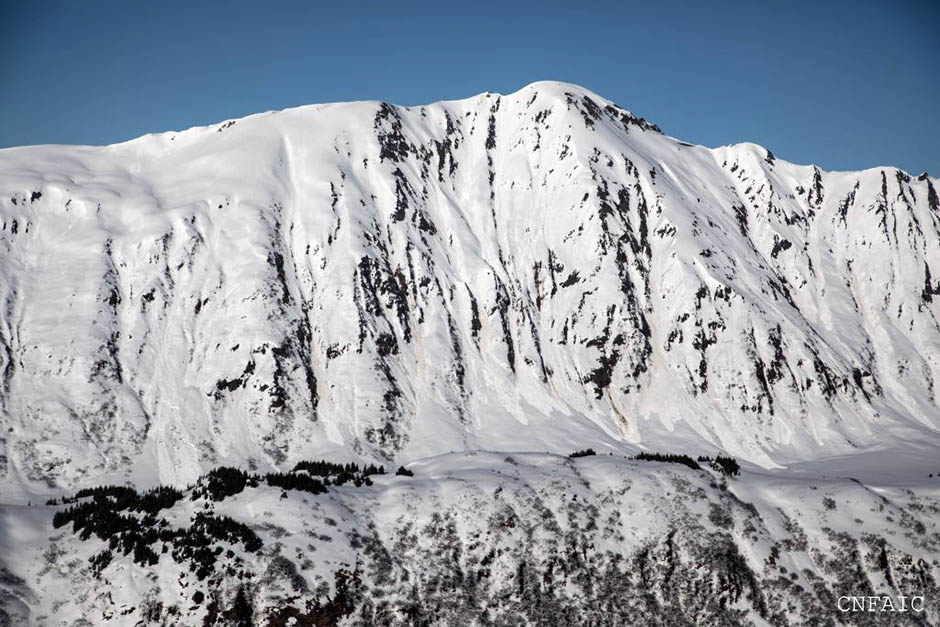 Wet loose and wet slab avalanches on Tincan in mid-April.
Wet Slab Avalanches: Wet slab avalanches are a combination of a slab, a weak layer or interface, and water percolating down to the weak layer or interface. Often there is a crust involved as the bed surface or some harder layer that the water lubricates. We had a wet slab avalanche cycle on April 10th and 11th and may see another before the season is over. As temperatures rise and/or rain falls at upper elevations these could happen even on the Northerly slopes. These tend to large and destructive when water is first being rapidly introduced to a somewhat drier snowpack.
Storm Slab: It is still possible to get significant snowfall this time of year. If it is raining hard at lower elevations depending on the temperature, it may be snowing hard up high. Pay attention to how much new snow has fallen and what surface it is sitting on. Is there a foot of new snow sitting on surface hoar or facets or a hard crust or over wet snow? Even without a persistent weak layer between the slab and the bed surface, it is still possible to trigger dangerous slab avalanches. These storms slab may also be tender and reactive right as they start to warm in the spring sun or with a rapid temperature rise.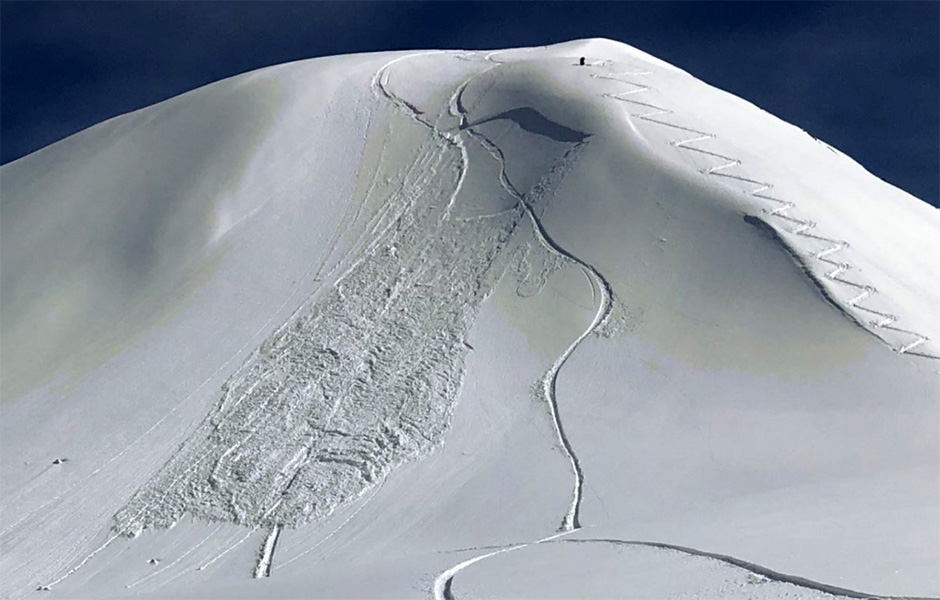 Example of a storm slab from April 19th on Eddie's headwall.
Wind Slab: It is also important to continue to pay attention to wind direction and loading patterns. New snow can quickly be loaded on leeward slopes and form touchy wind slabs. Look for areas of pillowed snow and watch for cracking. Like storm snow, wind slabs can be tender with the first warmup after the loading event. Again, you may be seeing a rain storm and forget that it is actually snowing and blowing up high. Check the weather page! What direction has the wind been blowing from? How strong for how long?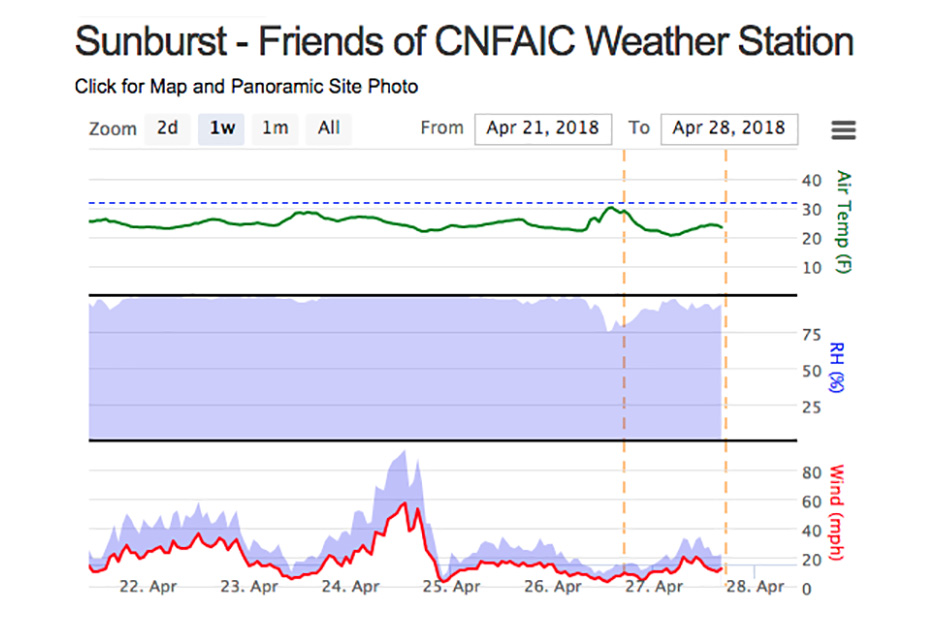 Sunburst Weather Station, note the winds speeds with 90 mph gusts on April 24th, ripe conditions for creating wind slabs.
Cornices: Some slopes still have large cornices looming above them. Knowing exactly what will tip the scales is difficult. Some factors that contribute to cornice fall are the direct sun, heat from rising temperatures, and new snow with wind. Give cornices a wide berth and take measures to minimize your exposure beneath them. Remember they tend to break much further back than expected.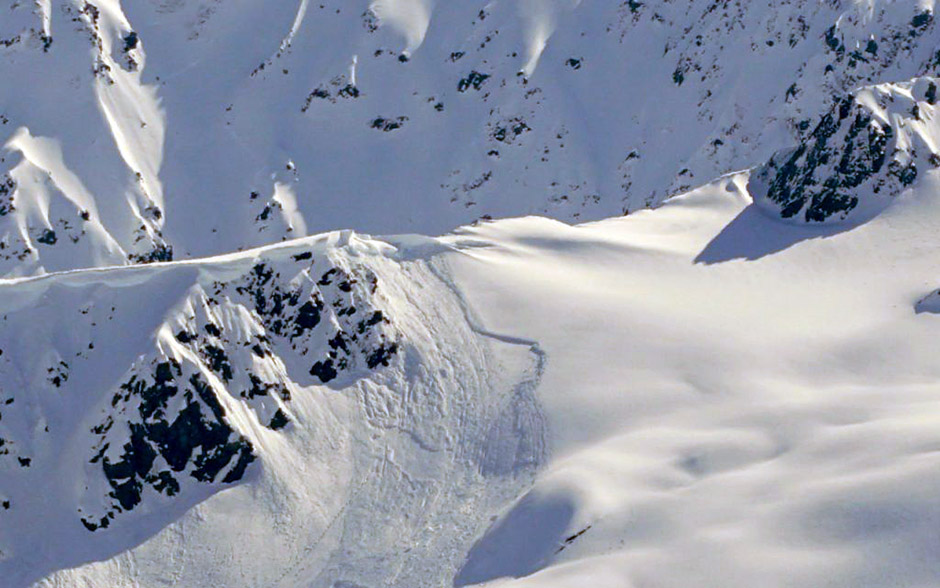 Cornice fall above Skookum in mid-April that triggered a slab below.
Below are some ways to both anticipate and deal with the above-mentioned avalanche concerns:
Watch for the shed cycle or complete melt-down on the higher elevation slopes and aspects still holding snow. What this means is avalanches that are running to the ground due to a warm, wet snowpack; wet slabs wet loose avalanches, and glide avalanches. One great way to anticipate this is to keep an eye on the ridgetop weather stations (click HERE). Avalanche activity often follows 3 or 4 consecutive nights of no re-freeze at the higher elevations. Rain can accelerate this avalanche cycle. Careful route planning to stay out from under slopes with wet and rotten snow is essential during this period.
Sinking or punching in on skis over your boot tops or having your snowmachine or snowmobile track trench in to wet snow is a sign that its time to exit the area. Following the aspects as the sun heats up the slopes over the course of the day, East to South then West, can make for great riding/skiing days, ending in sunny tailgating. High elevation North slopes may still have winter-like conditions but may also become wet if the temperatures rise enough in the next few weeks.
Pay close attention to overnight freezing, rising temperatures, and changing surface conditions. Keep in mind, cloud cover holds in the heat and can dramatically limit overnight refreezing. A shallow to no refreeze will not only give daytime heating a jump start on weakening the pack but can produce less than stellar riding conditions.
Beware of warm storms where rain is falling on snow, especially when rain is falling on cold dry snow. This can quickly increase the avalanche danger.
Stay off of CORNICES. When approaching from the side or above, make sure you can see where the cornice ends and the underlying terrain begins. If you cant see that transition area, move away from the edge. If you find you and your group below cornices, expose only one person at a time and move efficiently through those areas.
As always wear avalanche rescue gear and practice safe travel protocols!
Lastly, don't forget to plan your route back to the car. Does it take you under slopes that were frozen and safe earlier in the day, but now have been cooking in the sun waiting to slide on your return? Under cornices? Travel safely #sendandreturn.
---
TIPS FOR STORING YOUR AVALANCHE GEAR
Reminder: When you are done ski mountaineering and sledding for the winter season remember to take care of your avalanche gear. Take your batteries out of your beacon and store it in a dry place. Make sure your shovel and probe are dry when you put them away. Unhook your airbag canisters.
---
Thanks to Wendy, Heather, Aleph, and Graham from the CNFAICfor these valuable springtime avalanche tips. Read their final Turnagain Avalanche Advisory post of the season here.