For IFMGA-licensed mountain guide and BCA ambassador Joey Thompson, spring is a time to explore, but it's also a time to be vigilant about timing, the forecast, and gear selection. Travel in the warmer months can present a host of different issues than their colder weather counterparts. Understanding those differences in travel, tools needed for safety, and being able to read the terrain for danger signs is the key to enjoying a long day of spring skiing on the high peaks. BCA recently caught up with Joey to hear about a few tips he has for staying safe in the backcountry as the seasons' change and spring takes hold. Here's what he had to say.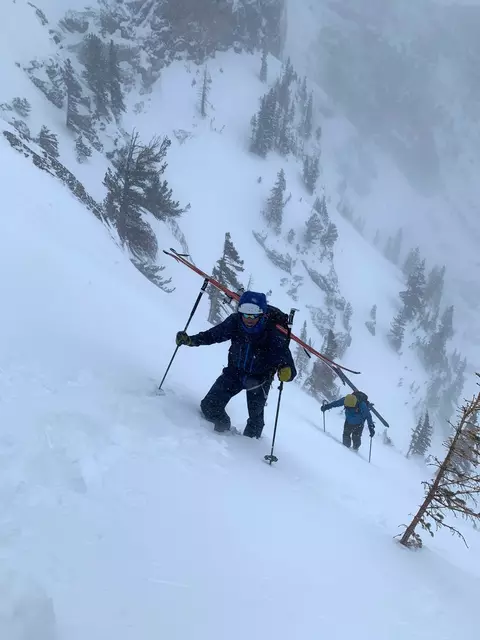 On Timing
I think a lot of us talk about terrain being our number one tool to navigate through the backcountry, so if we pick a certain gully or couloir or face to ski, we have to then target it to the terrain. We look at the aspect, the slope angle, the elevation of the particular run we're interested in skiing, and then we're looking at springtime, a particular time of year. So if a couloir faces south, for example, that would mean I'd be getting up very early for timing—timing the sweet corn skiing—so that it's not too early and it's frozen or we're not too late and it's so soft that it's hard to ski because it's isothermic—say a foot or two of slush skiing; it's past its prime.
When I think of spring skiing, I think of the overall big picture of timing. I think about aspect, elevation, and slope angles because I think right away to avalanching with wet problems—wet slab, wet loose. If I'm too late those avalanche problems become more likely and avalanche danger is on the rise. So when I look at springtime objectives, I look at start times. I always want to start a half-hour or an hour earlier than I think I should because I think there's a human factor here.
People think, "Oh, I don't want to get up at three, I'll get up at four, and I'll get to the trailhead at six rather than 5:30 a.m.," and it's amazing how long putting a skin on or forgetting something in the car or doing a transceiver check takes. All of a sudden those 10, 15, 20 minutes add up and you start to get behind the time schedule of catching those perfect, secure conditions.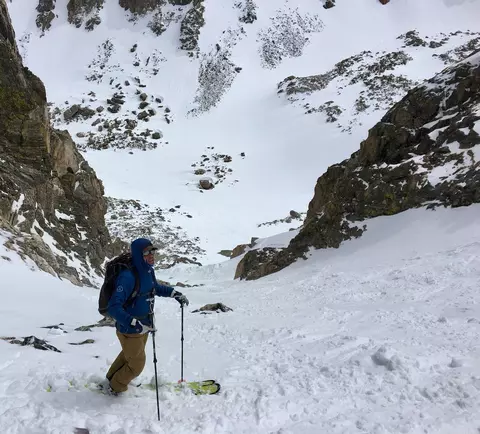 On Watching the Weather
If it's shady it will stay colder longer, and it won't heat up as fast. I also want to have a pulse on the weather for a couple of days before I go skiing a specific objective so that I can look at the sky cover. In the high country of Colorado, we have a lot of radiation balance issues with the snow. This is something I use in the springtime when I'm traveling: feeling the radiation on my clothes and my face. Even if the sun's not out, I can still feel the radiation coming through the clouds. That's really important because we have to manage the four weather components. We're now moving outside of terrain to external factors like wind, precipitation, temperature, and radiation—the four elements that directly affect weather also directly affect the surface of the snow. While I'm watching the weather, I'm paying attention to how intense this radiation has been. The temperature is depending on whether it goes above freezing or not because then it's telling me it's going to melt the surface.
If it's in a spring diurnal process—a melt/freeze process—that means I'm going to need crampons on the way up and I can ski it on the way down because it's corn. But now we start to get into the equipment I'm selecting after finding out the terrain component, the weather component. Now I can dress, layer, and protect myself adequately with ski crampons—do I need those instead of boot crampons? Do I need both?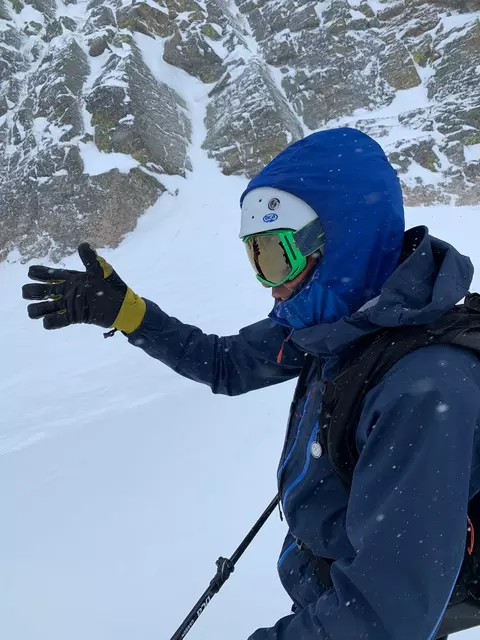 On Gear Selection
I have to be prepared for temperature fluctuations in my quiver to apply the equipment to the snow conditions.
The really important items to me are the things I would add to my quiver that I wouldn't necessarily have in the dead middle of winter: ski crampons, boot crampons, and a piolet (a.k.a. ice ax). I carry a Shaxe Tech or a Shaxe Speed — BCA's two shovel axes, which give me technical support if I am booting up a couloir and have boot crampons or if I just need an axe. I would just turn my shovel into an axe on the way up and then on the way down, I'd put my axe away and put it into shovel mode so that I'd have it ready for any avalanche problems that might arise.
The other piece of equipment that I'd bring that I normally don't bring would be skin wax and top sheet coat wax so my skis don't glob up. The BCA Scepter pole is also great because spring snow is heavy. It has more water in it from frequent storms and warmer air carries more water so the snow is heavier on my skis. I bring the BCA Scepter poles to scrape off my top sheet. I don't want to carry around all that heavy dense snow on my skis while touring.
About Joey Thompson
BCA ambassador and IFMGA-licensed Mountain Guide Joey Thompson has specialized in the art of moving through mountains for over 27 years. His list of credentials tells a story of a passion for the outdoors and a deep knowledge of how to travel securely no matter the season, with his resume including avalanche educator at Colorado Mountain School, AIARE- course leader, and AMGA Instructor Team Member. He snagged the title of an IFMGA Mountain Guide of the year in 2014 from the American Mountain Guides Association, another testament to his skill and dedication to the mountain guide profession.