BCA sled ambassador, Mike Duffy, talks about how to get young sled riders in the backcountry safely
Thanks to the new 2021 Arctic Cat Blast M and Yamaha SX Venom Mountain, there's going to be many happy young mountain riders this winter. You'll also see impressive mods available for these 400cc sleds. Lighter and more power! Your kid is going to become a real mountain rider in no time. No matter what they ride, we have some tips for making it a great experience.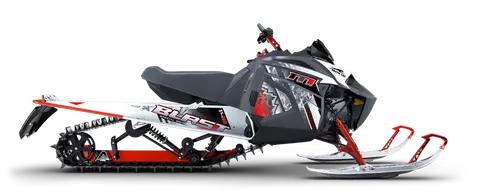 Lead by example.
Want a riding partner that will stay out all day? Get the right gear and get them developing habits that lead to success. This is the perfect opportunity to create smart riders. Show them the proper way to ride in avalanche terrain.
Here are some basics on getting your day started:
Read the entire avalanche forecast. Read, understand, and know what terrain is appropriate for the avalanche problem(s) that are present. Don't just read the danger rating: you must understand the type of avalanche(s) you are dealing with. In many instances, moderate danger doesn't mean moderate-sized avalanches. Forecast and other helpful tools can be found on your local avalanche center's website and on the Backcountry Access smartphone app.
Check the weather. Is the weather contributing to the avalanche danger? Is visibility good enough to see terrain above you and signs of instability? Is the avalanche danger likely to increase during the day?
Eliminate areas to ride after checking 1 and 2. Communicate and explain why to your riding partners. Keep it fun for the kids and they'll keep wanting to come back.
Do a thorough gear and transceiver check. Here's a link to how we do a proper transceiver check. https://www.youtube.com/watch?time_continue=5&v=rWoXbadFBsY&feature=emb_logo Help your kids out with adjusting the gear so it's comfortable. Most kids dress for the conditions at the time they leave the house and don't think of what could/will happen. You'll have to cover for their lack of foresight.
If you don't have on-the-snow avalanche training, there's not a better time to get it than when starting to ride with your kids. Bring them to class with you. It will be fun. The skills you learn make all the difference. Implement what you learn. You're starting with a clean slate with your kids and it's much easier to get them doing the right thing than retraining your old riding partners. The most common factor in recent motorized avalanche fatalities is the lack of advanced on-snow avalanche training. Take a level I avalanche course or AST 1 (in Canada).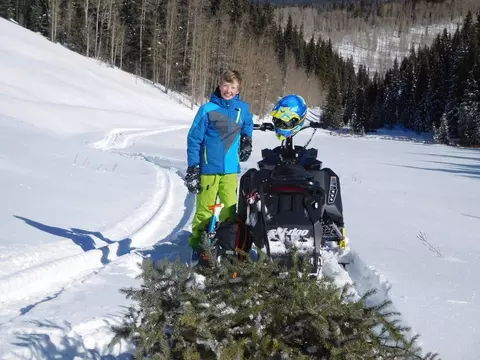 How to gear up your kid for mountain riding:
Kids need quality clothing and gear, just as adults do. Warm and comfortable means more riding time and happier riders. Buy quality once and you'll have it until they outgrow it.
Clothing: No kid wants gear that is too big. It's uncomfortable and restricts performance. For mountain riding, we use shell pants and jackets and layer up as necessary underneath. Bring extra gloves and layers.
Protective gear: Shin pads are crucial. Those running boards can be sharp. A chest protector isn't a bad idea either. Get a lightweight helmet that fits snugly. You don't want it to feel like a bowling ball on their head. Many have sized cheek pads for fit. Try them on, don't just order online. We prefer motocross-style helmets with goggles. They're lighter, easier to breathe in, and have less fogging problems.
Avalanche gear: Teach them from the beginning that we go prepared into the backcountry. These are the essentials.
Airbag packs: One size does not fit all. Get one that fits the torso. BCA has different sized packs (storage volume and torso length) for different sized people. I would not suggest a large volume pack for kids: keep it under 20 liters of storage volume. BCA makes packs for shorter torsos. Here are a few suggestions.
BCA Float MtnPro Vest-now comes in small! Has full protection, airbag, pack, transceiver pocket, and is BC Link compatible. Put on one item instead of multiple.
BCA gear is available on our website: https://backcountryaccess.com/...
Don't forget the BC Link Radio: You can coach your kid as they ride--and keep track of them. Your spouse won't be happy if you come home without the kids. This is how we keep our group together.
Teaching your kid to ride powder and mountain terrain: It's all about patience, progression, and building confidence. Start watching Bret Rasmussen's "Back to Skool" videos on YouTube to learn the right way to ride in the mountains. https://www.youtube.com/channel/UC9RrIUimSNjNf80bkw7RSPw
Each time you ride, work on a set of skills you learned in the videos. Then go have fun. Remember with most skills, it will not click right away, but with time they'll master it. Keep it fun and you'll have a kid that wants to ride all the time.
Hope this has been helpful.
Mike Duffy