When scoping for the best pillow lines, BCA ambassador Miles Clark says there are a few things to keep in mind.
Miles launching off waterfall style. Photo courtesy of SnowBrains.com.
---
In this Backcountry Ski Tricks 101 blog, Lindsay Hayden interviews BCA ambassador Miles Clark for some advice on how to ski pillow lines. Pillows typically form in areas where deep powder covers rocks or downed timbers stepping a mountain like a staircase or where big boulders have piled up from old rockslides. And they often lie in avalanche-prone areas so dont forget to keep improving your backcountry safety skills by taking avalanche courses.
---
Finding the perfect pillow line is a sweet, sweet dream for skiers. Just ask BCA ambassador Miles Clark, who has spent months in British Columbia skiing pillow lines. These piles of pow from the snow gods have the opportunity to be the shred of your life, as long as youre equipped with the knowledge on how to properly scout and ski a pillow line.
When snow begins to fall, massive boulders that form rock staircases down mountains transform into pillow lines. Some of the worlds best pillows can be found in British Columbia. B.C. tends to have better pillows than anywhere else because it has unique terrain, wet snow and a lot of it. But if trekking out of the country is a bit of a stretch for you, dont worry! There are some excellent pillow line spots in the Lower 48. Mt. Baker, located in Washington state, and Tahoe are both sweet options to consider.

When scoping for the best pillows, Clark says there are a few things to keep in mind. You want to make sure there arent any holes or gaps that youre not going to be able to make with your estimated trajectory. Your line should smoothly travel from pillow to pillow, says Clark.
Another critical factor in a good pillow line is that it has enough snow. A general rule when gauging whether a pillow line is skiable or not is to make sure that the line is covered in about 2 feet of fresh snow. The best conditions for skiing pillows is deep, fresh, soft snow. You really want the pillows to be soft. If theyve become hard or firm at all, those flat pillow-top landings are going to be rough, Clark states.
When scoping a good pillow line make sure that you have a clear exit site. Clark explains that sometimes pillows live in areas that are full of dense trees and other obstacles. Miles Clarks motto is If you cant visualize a clean exit, walk away.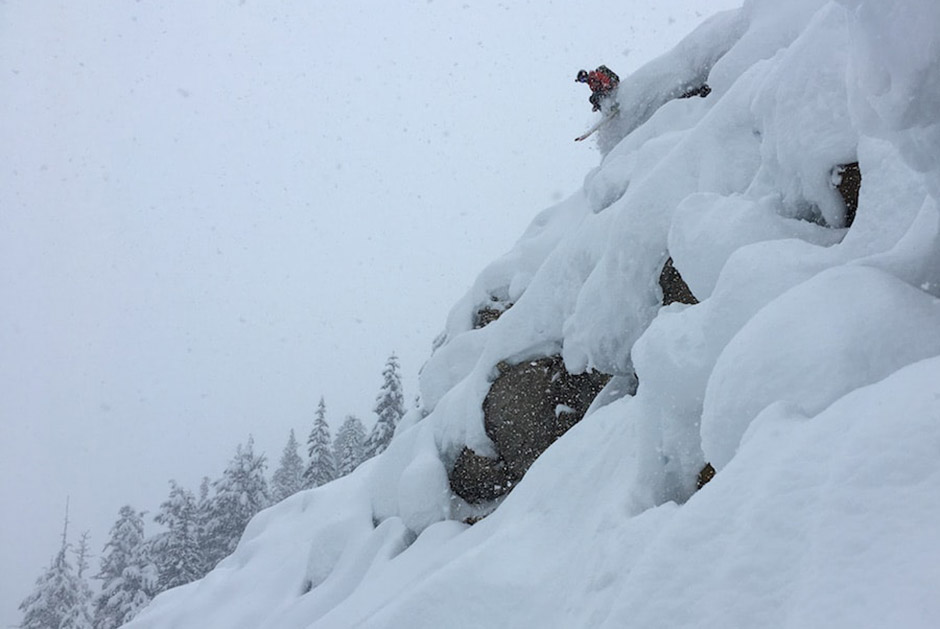 Miles slicing through some pillows. Photo courtesy of SnowBrains.com
As far as safety measures go, avoiding collapsing pillows is the number one way to run a clean, injury-free game plan. Two elements that cause pillows to collapse are warmer temperatures and a pillows lack of support. If you ski a faulty pillow line, you run the risk of having the broken pillow pieces hit you, which can be a very dangerous situation.
Avalanches are another potential hazard when skiing pillows. While pillows are generally found below treeline, they can still be exposed to the big terrain that is above them. The most significant risk of avalanches when skiing pillow lines comes from above. Having an action plan in case something goes wrong is essential when skiing pillows.
If youre going out into the backcountry to slay some pillows, youll obviously be needing some safety equipment. The backcountry basics that you should always have in your arsenal of touring gear are a beacon, shovel, probe, skins, and an avalanche airbag pack, if you have one. A two-way radio is also instrumental when scoping and skiing pillows, as many pillow lines are blind from the top. When judging the speed required to hit and clear each pillow having a scout below can be helpful. With a two-way radio, Clark says, Your buddy can help guide you into the starting position and get you dialed into your line from below where he/she can see everything.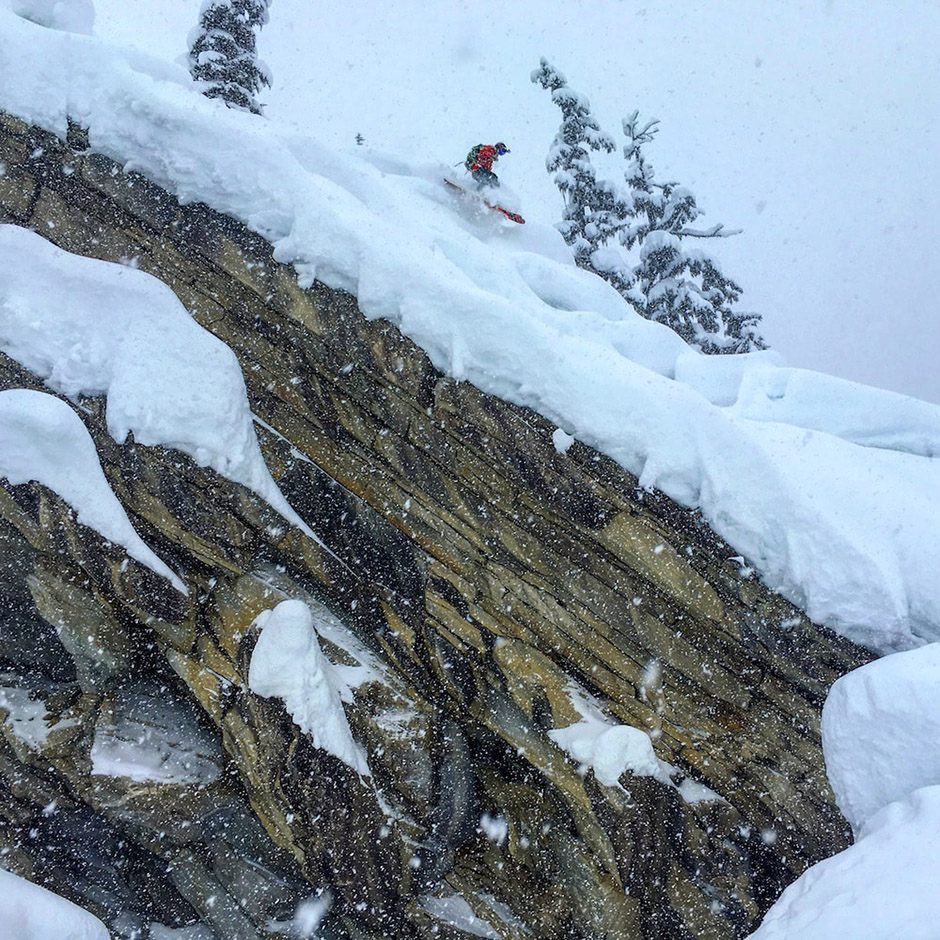 Photo courtesy of SnowBrains.com.
Making sure that youre in the right area, on the proper snow is just as important as what you are equipped with while youre out scoping and skiing pillows. As mentioned before it is imperative that the pillow is stacked with deep, fresh powder. When youre skiing in these conditions, youll want to be in a strong binding and on a fatter. The reality of pillow skiing is lots of big drops to flat landings so youre gonna want a binding thatll hold you in, says Clark. A ski that can handle the drop and stomp is another key to successfully shredding pillows. Due to the flat landings and soft snow, the fatter the better for your ski, Clark adds.
Skiing pillow lines is a beautiful thing when youre equipped with the proper knowledge and gear to shred safely. Having strong backcountry partners is imperative whether you are a seasoned pro or a newbie. Making sure that someone has eyes on you while youre shredding pillows ensures that youll be seen if something is to happen.