BCA is proud to be a founding supporter of Backcountry Ascender, a new avalanche education platform for snowmobilers. The program was developed by Sled360, in partnership with Avalanche 1, the International Snowmobile Manufacturers Association (ISMA), and the four snowmobile manufacturers: Arctic Cat, Bombardier Recreational Products (Ski-Doo), Polaris Industries, and Yamaha Motor Corporation, USA.
Backcountry Ascender is a free backcountry and avalanche education program.
The platform uses educational gamification and good-natured competition to encourage rider awareness and improve their backcountry knowledge, skills, and practical experience. The engaging and competitive platform is comprised of industry and peer-reviewed curriculum of self-directed lessons and in-person courses. Riders earn points for completing lessons (called sorties) and short courses (missions) to increase their rank.
SIGN UP FOR BACKCOUNTRY ASCENDER HERE
The idea of Backcountry Ascender is NOT to replace on-snow avalanche courses but to provide a clear education path and drive greater participation in these courses.
Objectives
Make snowmobilers more prepared and knowledgeable in the backcountry.
Make higher level avalanche classes the norm for snowmobilers.
Reduce snowmobile avalanche accidents & fatalities.
Make education easier to obtain.
Create a starting point for new riders.
Foster ongoing education and practice.
Better prepare riders for industry training.
How it Works

Backcountry Ascender starts with self-directed online learning and incorporates existing industry in-person courses. By starting online, riders can learn before hitting the snow and prevent many of the basic mistakes made in avalanche terrain. To move up to higher levels, participants must take industry on-snow classes.
As mission levels are completed, users earn badges that can be shared with social media.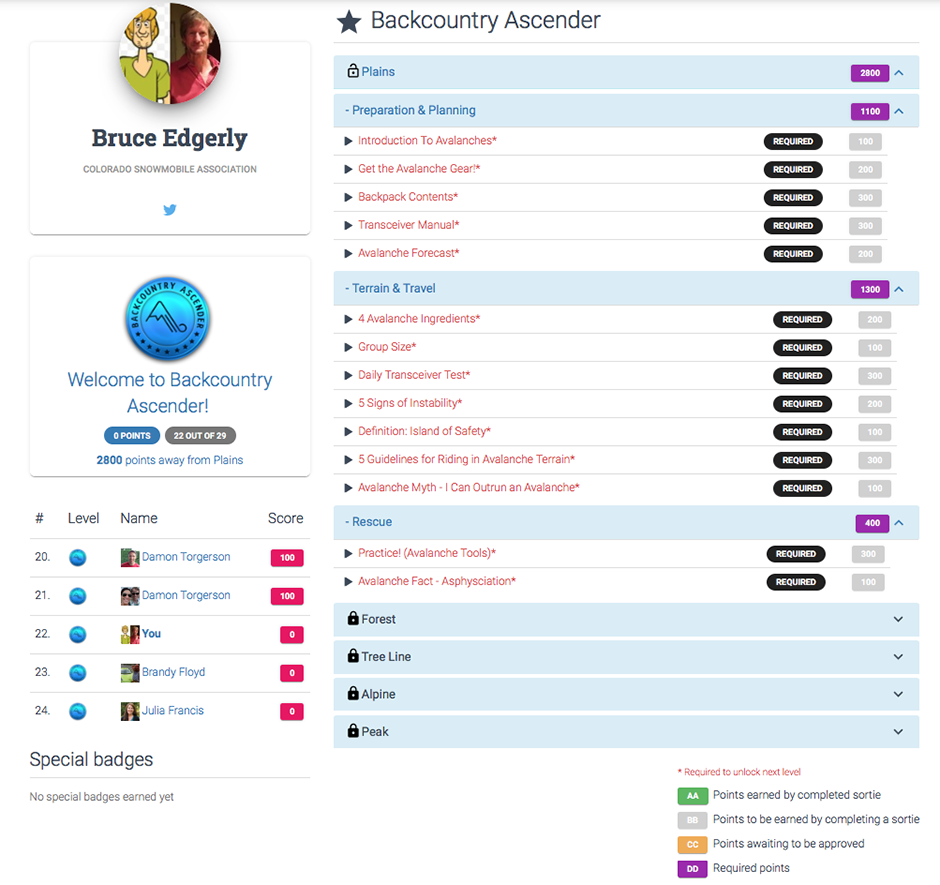 The curriculum for Backcountry Ascender is seeded from approved content sources such as the American Avalanche Association and Avalanche Canada and has been peer reviewed by many industry leaders. It is not specific to nor does it promote any one avalanche school. The content is dynamic and is expected to grow year after year.
To log on and get started, go to http://www.backcountryascender.com.