Caption: Our 25 Years Deep video shows how BCA has evolved to promote good decision making and a #sendandreturn mentality to riding in the backcountry. Featuring a burly Alaskan line and Float airbag deployment by Daron Rahlves and some timely BC Link radio comms to keep snowboarder Hunter Schleper out of a slide propagating behind him.
---
By Bruce Edgerly
It all started at a bar. Bruno (BCA co-founder Bruce McGowan) had just lost his shirt starting up a casino in Blackhawk, CO. Id recently abandoned a promising engineering career to travel the world to ski, kayak and write. We all know how well that pays. What the hell, I remember Bruno saying. There's nothing to lose. Were both unemployable.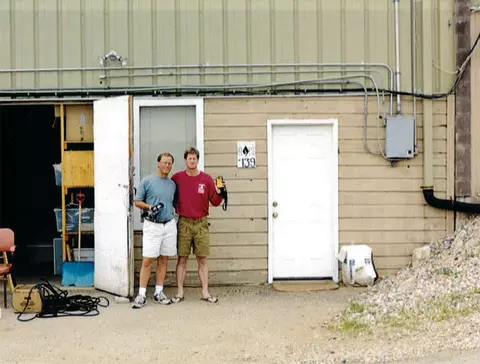 Caption: BCAs first assembly operation was in Bruce Bruno McGowans garage. In 1996, the company moved to 139 N. Broadway, next door to the Bustop, Boulders only strip club. Bruno on left, Edge on right.
A few weeks later (May 1994), we created an LLC to market a mousetrap Bruno had cobbled together after a ski trip to St. Anton, Austria, where hed spotted the Secura-fix. This low-budget Swiss accessory could be inserted into your bindings so you could skin uphill in your lockdown alpine gear. This meant that hooray you no longer had to telemark to go backcountry skiing! Bruno succeeded in building a better mousetrap, the Alpine Trekker, that could stand up to the demands of aggressive North American skiers chasing untracked lines in close-in powder stashes. With several years of networking under my belt as a writer for powder magazine, I knew all the influential freeskiers and media types, so my role became sales and marketing.
While BCA no longer offers the Alpine Trekker, it was our foothold into the fantasy and low paying world of the outdoor industry. We had no delusions that this clunky widget (later coined by others as the Day Wrecker) would lead us both to a long career in what became the hottest categories in skiing: alpine touring and snow safety. And eventually to mountain snowmobiling, the crotch rocket of the motorsports industry.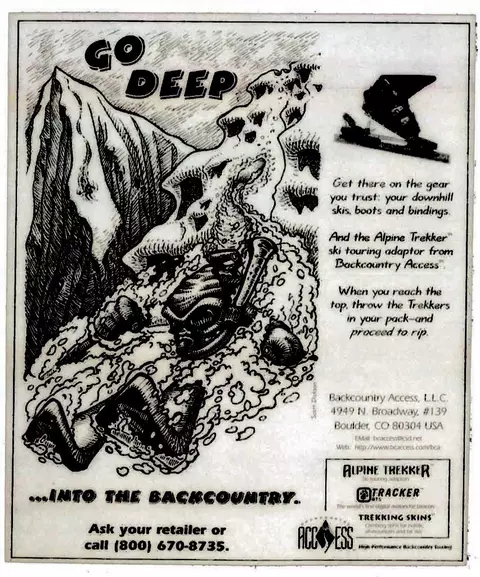 Caption: BCAs 25 Years Deep anniversary campaign is partially based on an ad we placed in powder magazine in 1997.
Right around the same time, a longtime whitewater kayaking friend, John Herf Hereford, had just come off a trip to one of Colorados 10thMountain huts. I can do better than this thing, he said after a frustrating practice session with his Pieps analog beacon. He quit his electrical engineering job at Storagetek and got to work on the Tracker DTS. Four years later this would revolutionize the industry as the world's first digital, multiple-antenna transceiver.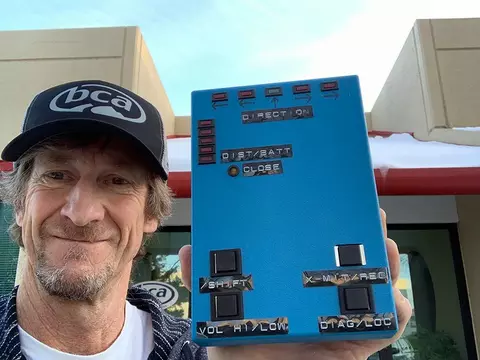 Caption: Big Blue was the original Tracker DTS prototype that proved that a transceiver could show distance and direction with a digital processor.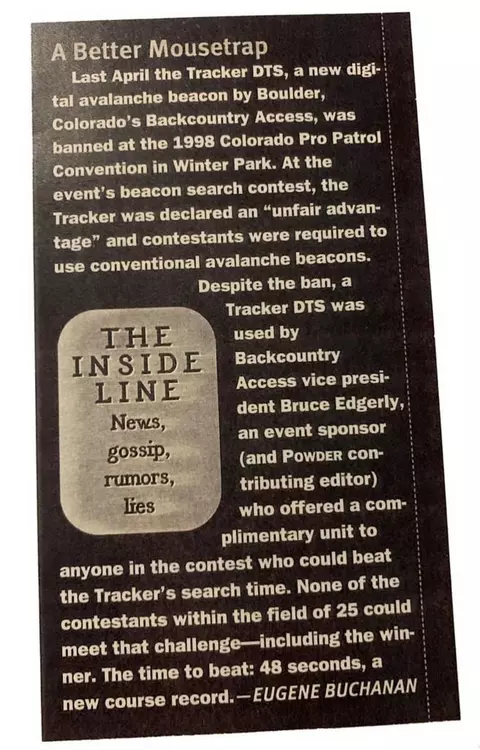 Caption: Like the Alpine Trekker, Tracker DTS was truly a better mousetrap. Make sure you read this blurb fromPowderMagazine closely.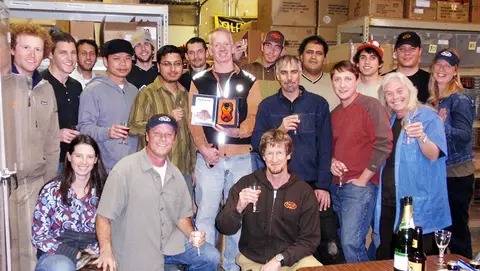 Caption: John Herf Hereford holds up the first Tracker2 off the assembly line in this 2009 team photo.
Like the Trekker and the Tracker, all of BCAs products have been conceived out of frustration with existing products that weren't cutting it in the winter backcountry setting. Rowdy skiers weren't interested in telemarking in leather boots or figuring out complicated grid searches with an analog beacon. Likewise, we were frustrated with our hydration tubes freezing in the winter (Camelbak started in Texas), so we created the industry's first freezeproof hydration system, the Stash Pack.
Europeans had been using avalanche airbags for decades, but in North America, they were expensive, Euro-looking, and impossible to refill after deployment. We made a system that was lighter, more affordable, and easy to refill: the Float pack. And when our Motorola Talkabout kept running out of juice and getting lost when we changed layers we started work on a radio actually designed for winter backcountry recreation: the BC Link.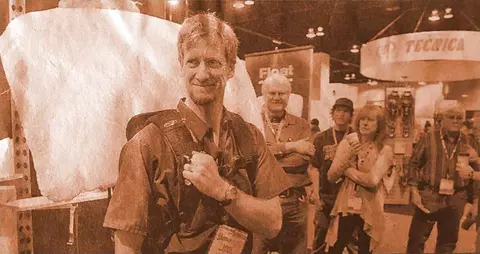 Caption: BCA launched the Float avalanche airbag line at the SIA Snow Show in January 2010. On the wholesale market only a few weeks, the first generation Float packs sold out its initial production of 1,000 units. Photo: The Denver Post.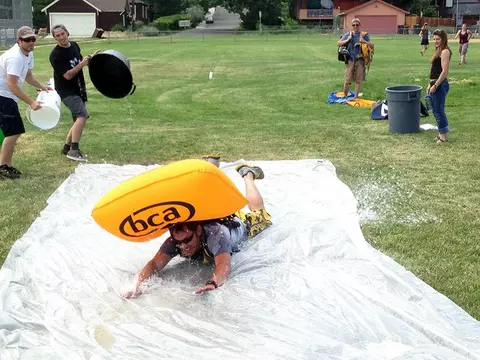 Caption: BCA isn't all serious business. We like to have a good time at our company picnics, usually involving some BCA products.
---
But innovation isn't just limited to engineering and product development. After getting publicly scolded for being brash and cocky by some widely respected avalanche professionals, we took a step back. We decided to take a different approach to market our products: by putting them in perspective as just a part of the safety quiver. BCA developed an education program and a network of ambassadors to push out a much-needed message about staying out of avalanches.
After much introspection, we determined that our true goal was to save lives, not just pump products. And that's where we stand today: as an industry leader not only in safety hardware but also as a strong voice in education.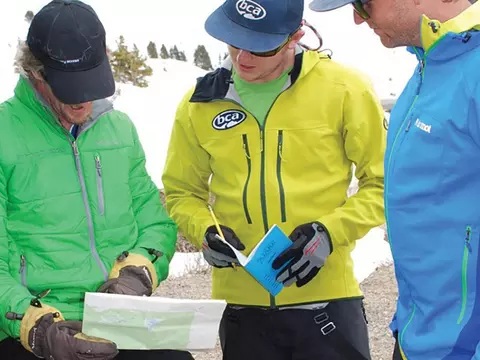 Caption: BCA produced the Backcountry Basics video series in conjunction with AIARE to educate riders on how to avoid getting caught in avalanches.
What perspective can we provide after being up to our necks for 25 years in snow safety? Well, we've experienced the highest of highs and the lowest of lows: getting paid to travel the world to ride powder. Losing friends in avalanches. Getting buried in avalanches ourselves. Speaking to a parent whose teenage child has been killed. The best place to be is right in the middle: riding powder for your own enjoyment. Doing what you love, not for the money or for the adrenaline, but for the sheer fun of it and the quality relationships that result from doing it with friends and family. The long, healthy lifestyle, not just short-term gratification.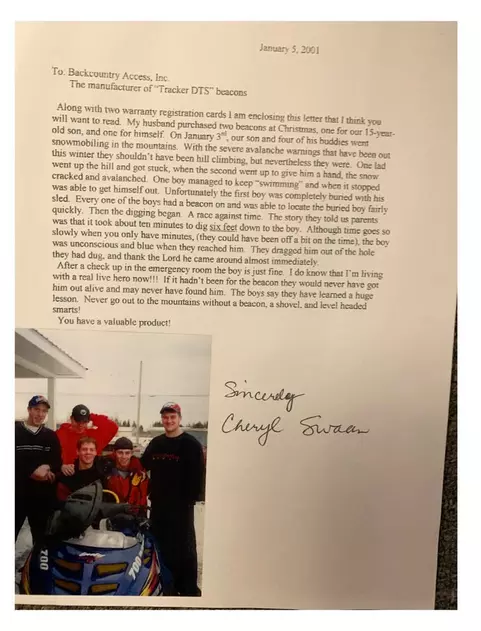 Caption: This letter from Canadian mother Cheryl Swaan documents the first recorded life saved with the Tracker DTS. Receiving this letter was one of the biggest days in BCA history, to date. We now receive several letters like this a year. We post them in our break room for all employees to cherish.
We're grateful for all we've been able to accomplish in these 25 years. And we realize that this would not have been possible without the support of our friends, relatives, and trusting customers. Thank you. Yes, we sold our company a few years ago but were still at it full-time except for Bruno, who just retired and is skiing this week back in St. Anton.
Well, in hindsight, I guess we weren't so unemployable after all. #sendandreturn.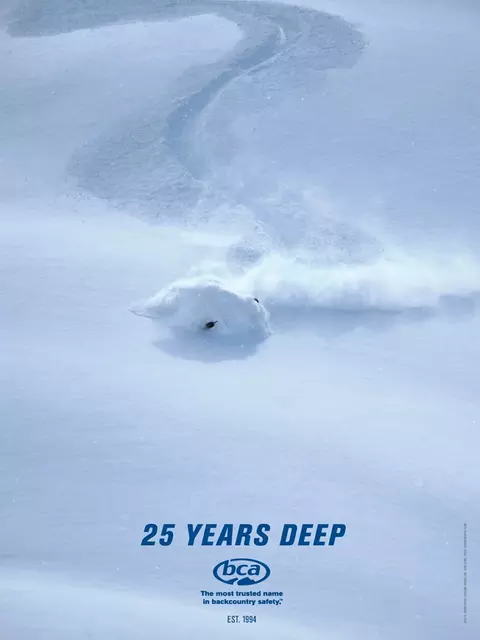 Caption: This season BCA is celebrating being 25 Years Deep in the outdoor industry. Its been a wild ride!