By Mike Duffy
Last winter was awesome, but its definitely over. In Colorado, our short season is summer. We all suffer through it. But when winter comes back, we want to be ready to spring to action. When I prep my avalanche gear for summer and put it away, I make sure it is set for the next winter to avoid any delays when the snow flies.
Four Steps to Prep Your Avalanche Gear
Take the batteries out of your transceiver.
Deploy your airbag and refill the cylinder.
Inspect and test all your gear.
Clean and get your gear ready for next season.
How To: Take the batteries out of your transceiver.
Take the batteries out of your transceiver. Before you do this, inspect the outside of the transceiver and also check to see if all transceiver functions are working properly. Remove your batteries and dispose of them appropriately (its okay to put alkaline batteries in the trash, but not in your recyclables or compost???? Discard your batteries or use them in a less important device no matter what the remaining power level is: all battery brands discharge differently and even some batteries of the same brand will discharge over the summer. Best to always start fresh next season.
Check for corrosion on the batteries and in the battery compartment. If there's corrosion in the battery compartment, then clean it off with a Q-tip and rubbing alcohol especially the battery contacts. Put the batteries back in temporarily (unless the batteries are corroded) to make sure the problem is fixed. Remember, corroded battery contacts are not warranted by any beacon manufacturer: corrosion is considered user error.
For fleet owners, download the Tracker Inspection and Testing Checklists on our Tracker Resources page.
How To: Deploy your airbag and refill the cylinder.
Deploy your airbag and refill the cylinder. I'll check the gauge, deploy the cylinder, and then inspect the entire pack. Look at the material on the pack/vest, check the trigger cable and connection points. Deploy the airbag and make sure the airbag stays inflated for at least two minutes (Float airbags are not airtight and will leak over time). Using the Consumer Refill Kit that came with your Float cylinder, replace the valve stem O-ring inside your cylinder head or have your refill center do it. Then visit our store locator to find your local refill center and go get your cylinder refilled. Store the entire set-up in a cool, dry place.
Why do we suggest doing your annual practice deployment over the summer? Because of there's no better test for leakage than letting your full cylinder sit for a while. At BCAs factory, they sit for a minimum of two weeks before shipping to make sure any slow leaks can be detected. A few months is even more telling. Just make sure you check it again in the fall, well before your first powder day, so you have time to react (i.e. call BCA) if there's an issue.
Watch our videos on how to install an avalanche airbag air cylinder and how to repack your avalanche airbag.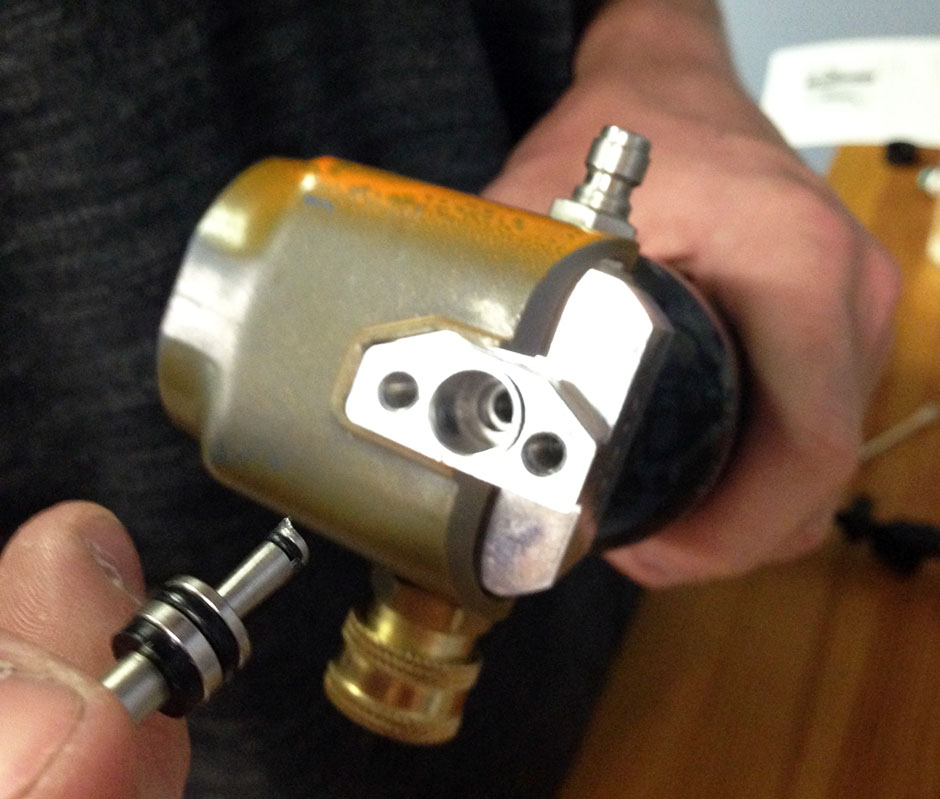 How To: Inspect and test all your avalanche gear.
Avalanche Airbag Packs: Look for any damage (seams coming apart, rips, etc.). Take out old food that can get moldy and think of what should be added for next winter. Inspect all the gear you carry for function and wear.
Avalanche Probes: My gear takes a beating. Rescue classes can be a torture test on avalanche probes. Inspect the junction between sections for splits, frayed cables, and broken pieces. Replace your probe if damaged. It's best not to find these flaws next winter in a real-life scenario.
Avalanche Shovels: Inspect for damage. Usually, I wash my shovels since they're used well into mud season. Make sure all the spring pins are present and that they fit in all the holes, so you know your shovel will fit together when you need it.
Radios: My BC Link radios are used all year long. I inspect them, keep them fully charged, and make sure all the channels are synced to each other.
Avalanche Transceivers: Test as mentioned above and then store in a cool dry place with the batteries removed.
Snowmobile Protective gear: I wash my MtnPro mid-layer vest and shin guards with mild soap and water, hose them off and hang them to dry. They work great for motorcycling.
MtnPro Tunnel bag: Remove, inspect, and wash with mild soap and water. Hang to dry. What do you need to add for next season? Restock the bag with any emergency or first aid gear you burned through this season. Now you're ready to go at a moment's notice.
If you're missing any gear, or need to upgrade, do it now while you can get big off-season discounts. No retailer is discounting in the fall when everybody else is scrambling to get their gear together. It pays to be proactive.
How To: Find Avalanches Courses
Avalanche Classes: Have you taken a level 1, level 2, or companion rescue class recently? It's important to keep current and further your training. Many avalanche schools already have dates set for their courses next season. Take one early in the season, when the riding isn't quite in yet and you have all season to enjoy the benefits. Set that weekend aside right now.
Moral of the story: Get your gear and knowledge in order right now so you're ready to hit the snow running when the season hits!
---
Mike Duffy is a Backcountry Access go-to expert in snowmobile avalanche safety. Find avalanche safety courses at Avalanche1.com professional avalanche education for mountain riders.