With backcountry travel continuously on the rise, accidents involving multiple groups are becoming a growing concern. As a result, more avalanche centers in the U.S. are implementing common use two-way radio channel programs to increase communication--and minimize conflicts--between groups of skiers and snowboarders in the backcountry.
Imagine this: You're about to drop into a steep backcountry chute. The chute looks clear, but before dropping in, you call on the designated radio channel for the mountain drainage you are riding in. You say, "Party of two dropping into TNT chute, is it clear?" Another group responds, "Party of three in TNT chute, we'll let you know when we're clear." Without the designated radio channel, there would be no way to effectively communicate with the other group, leading to a potentially dangerous situation.
In mountain communities across the western United States, new common use channel radio programs encourage standardized, zone-specific
radio
channels to increase inter-group communication
Just recently, the Utah Avalanche Center (UAC) and SPART (a member unit of King County SAR) in collaboration with Northwest Avalanche Center (NWAC) have activated such programs, respectively, in the heavily used Wasatch Range outside Salt Lake City and Snoqualmie Pass outside Seattle. In the Wasatch, the UAC has designated three separate radio channels and privacy codes for users of Big Cottonwood Canyon, Little Cottonwood Canyon, and the Park City backcountry zones. SPART/NWAC have set up dedicated channels and privacy codes for the Kendall, Hyak, and Snow/Source Lake zones on Snoqualmie Pass.
In addition, Telluride Helitrax snow safety director Matt Steen spoke at the Wyoming Snow and Avalanche Workshop (WYSAW) this fall
about implementing a common use radio channel program in the Tetons
outside Jackson, WY. The Teton Backcountry Alliance is now surveying users to see if there is interest in such a program around Teton Pass. Steen and the
Telluride Mountain Club
paved the way several years ago after several incidents between groups in the heavily used Bear Creek area adjacent to Telluride resort. Not only has this helped prevent further incidents, but it has proven to be a highly effective method to coordinate rescues. In his WYSAW presentation in October, Steen recounted three separate incidents last spring in which the program was used to expedite a rescue. He attributed the program to saving at least one life, possibly more. When the lifts were closed due to COVID-19, an additional common use radio channel was added to accommodate backcountry users within the closed ski resort.
BCA is ecstatic over these two-way radio programs' growth and considers them an extension of its mission to save lives. "When we developed our
BC Link radios
, we were focused on communicating better within groups in the backcountry, to prevent accidents," said BCA co-founder Bruce Edgerly. "We're excited that other pros have found them to be equally as valuable for communicating between separate groups--and to initiate rescues. This takes the safety aspect of these radios to the next level."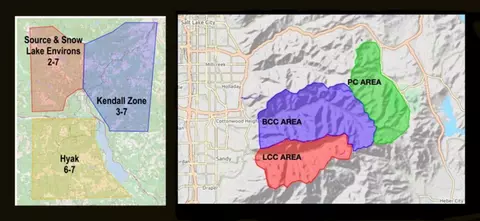 The maps above show the dedicated radio channel zones for the Snoqualmie Pass Common-Use Channel Program (left), and the Wasatch Common-Use Radio Channel Program (right).

With the increased popularity of these programs, it's essential for users to exercise proper radio etiquette. Here are a few key points.
Best Practices
Cut the chatter. For these programs to work, all non-essential communication (setting up photos, sharing of stoke, etc.) should happen off the dedicated group-to-group channels.
Keep it concise. Communication on group-to-group channels should be clear and concise. Example: "Party of three dropping into Moon Chute on the north side of Prospectors. Is there anyone below?"
When to use a Group-to-Group channel
When your group is about to enter complex terrain.
Relay information regarding potential hazards or critical snow and avalanche beta.
When your group is clear of a given line or area, alert other groups of a clear run-out zone.
Other uses:
Send a distress call to another group for assistance in case of an accident.
Request another group to call 911 to mount an organized rescue if your own group has no cell service.
Communication between partners as they travel through complex terrain (use your own channel).
Finally, use to scope terrain for your partners--on your own channel--so you can nail your lines!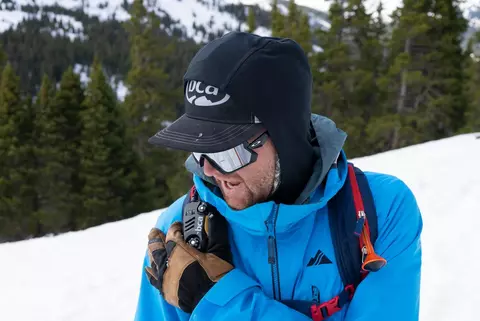 Live in one of these areas? Read more: